This report covers the San Francisco Bay regional Mastodon instance sfba.social, with general statistics, financial details including income (donations) and expenses (hosting costs), moderation efforts, and changes made and being considered.
General Statistics
As of the end of September 2023 we tallied roughly 38,500 friends on sfba.social. This is an increase of about 500 new users during the quarter, compared to the 400 friends we gained from April-June.
Financial Details
We are very fortunate in that financial contributions are covering the monthly hosting costs with some to spare. We are continuing to build reserves to sustain the community long-term.
Expenses are mainly monthly hosting costs with Linode/Akamai and some additional cost with AWS: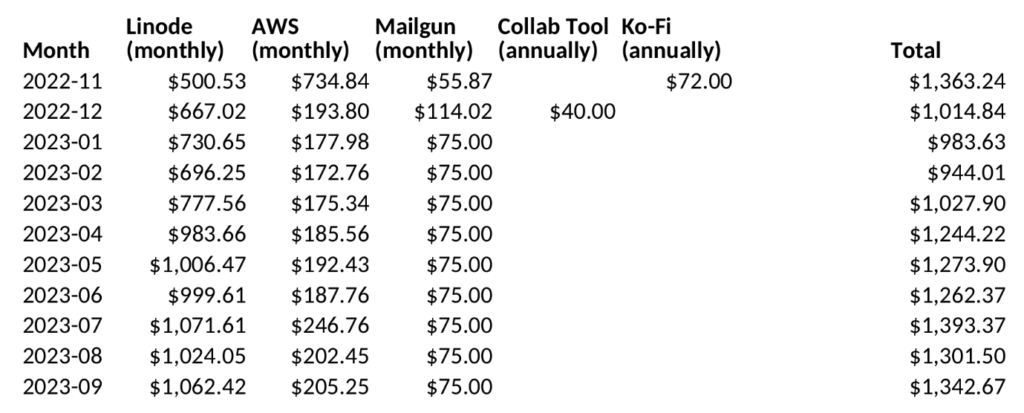 Our very simple balance sheet: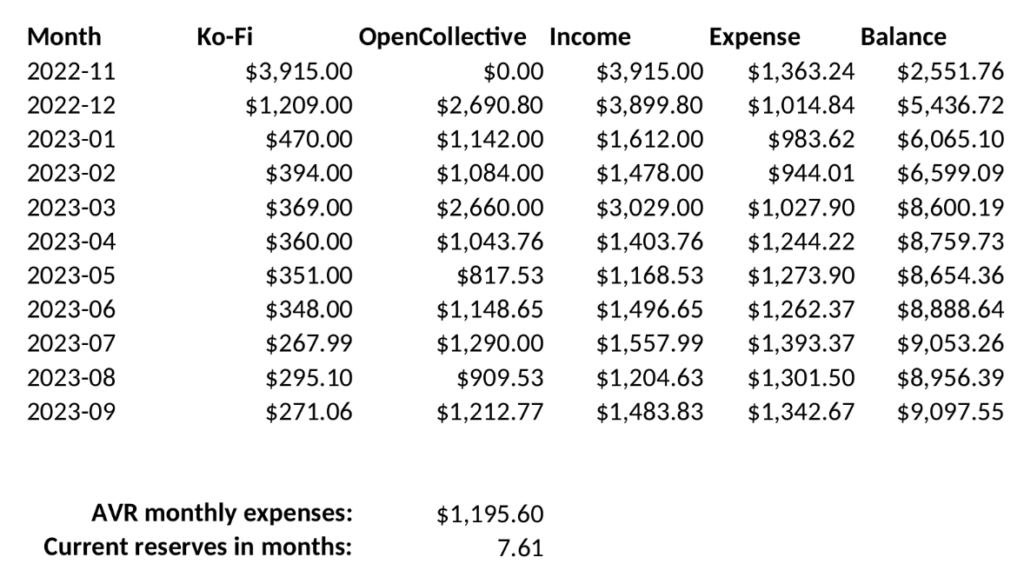 With our projected burn rate, the running costs of the instance are covered for almost eight months. Our target is to maintain more than 6 months of runway.
As always, donations are gratefully accepted at: opencollective.com/sfba-mastodon
Moderation
Moderators work to make sure that the local feed posts follow sfba.social rules. Our moderation efforts rely on users promptly reporting posts that go against our server rules, which helps us quickly deal with issues as they come up. In general, folks at sfba.social follow the server rules well and report users who do not, which the moderation team appreciates very much.
As always, we encourage our users to actively curate their Home feeds using Filters and the Mute and Block tools and to promptly report any content that violates the server rules.
The Admin/Mod team handled 382 reports in Q3. This is a significant decrease compared to Q2 (659 reports).
Nearly all reports are resolved within a day, but issues involving more detailed investigation may take several days.
We actively address bad actors on the federated network by:
Defederating instances with poor moderation standards or a history of lax enforcement. You can see a list of defederated servers on the about page (under "Moderated servers"). Servers marked as "limited" cannot communicate with our server by default, but users can follow and communicate with specific accounts when they know the full account address. Servers marked as "suspended" cannot communicate with sfba.social, with no exceptions.
Monitoring the #fediblock hashtag to identify servers that may warrant investigation on our part, before they become an issue for our users.
Monitoring and limiting IP address ranges that produce lots of spam accounts. This does not impose any restrictions on existing accounts, but new accounts from these sources are approved manually. We believe aggressively blocking spam sources is one of the reasons the number of reports has decreased.
A special note on the Israel-Palestine conflict
We recognize there is an immense depth of emotion tied to the Israel-Palestine conflict, especially after the terror attack on October 7th. We're committed to providing a platform where personal stories can be shared, but we urge everyone to reflect before posting. We hope you'll help us to build a space that promotes understanding rather than division. While every individual has inherent biases, we're diligently working to be aware of and minimize the impact of ours in our moderation practices. In line with this, team members with close ties to the issue have volunteered to step away from moderation tasks involving the conflict. As we navigate this delicate matter, we deeply value your empathy and patience.
Team
No changes: the Admin/Mod team is stable and the workload continues to be manageable.
Events
We would like to create more opportunities for our members to meet each other– such as the Club Fugazi event in February and the SFBA in the park meetup in August. Please let us know if you have any ideas at @announcements@sfba.social!
Technical Infrastructure
Maintenance and Upgrades
Datacenter migration: as announced in our last reports, to prepare for the datacenter migration by Linode, we had to undo our IP failover mechanism for the database cluster. After the migration is completed, the plan is to restore it using the different IP migration feature available in the new datacenter (based on BGP instead of ARP). We are still waiting on Linode to finish the datacenter migration.
Resource efficiency: since the growth of our instance has slowed down we've begun to remove some capacity headroom we had allocated in anticipation of future growth. The monthly spending is reduced by 10-20% in consequence.
Upgraded to Mastodon 4.2.0: this was a major upgrade to the Mastodon software. Read more about it here https://sfba.social/@announcements/111146688257950462.
In progress
Updating the information hub: continuing work on the instance info site, including an on-boarding guide to help new users get going quickly. As always, changes will be announced via @announcements@sfba.social.
Updates to Terms of Service: overhauling our terms of service and related policies to clarify appropriate uses of the site and content.
Outreach to local media organizations: drafting an OpEd piece explaining SFBA and the fediverse for local news organizations. If you'd like to contribute or otherwise be a resource, please reach out by messaging the team, commenting on the @announcements post, or email us at support@sfba.social.
Under consideration
Pixelfed: we are considering adding a Pixelfed service for our photo-inclined users, once Pixelfed's new feature allowing sign-in with a Mastodon account is live.
Conclusion
We look forward to the next quarter—if you would like to contribute, please donate to opencollective.com/sfba-mastodon
And we always welcome comments!
Your Admin & Moderation team: